Protective Coating
Thermal Spray
Superior Shot Peening & Coatings provides several options for thermal spray coatings. Depending on your requirements, we will work with you to provide the best process for your work.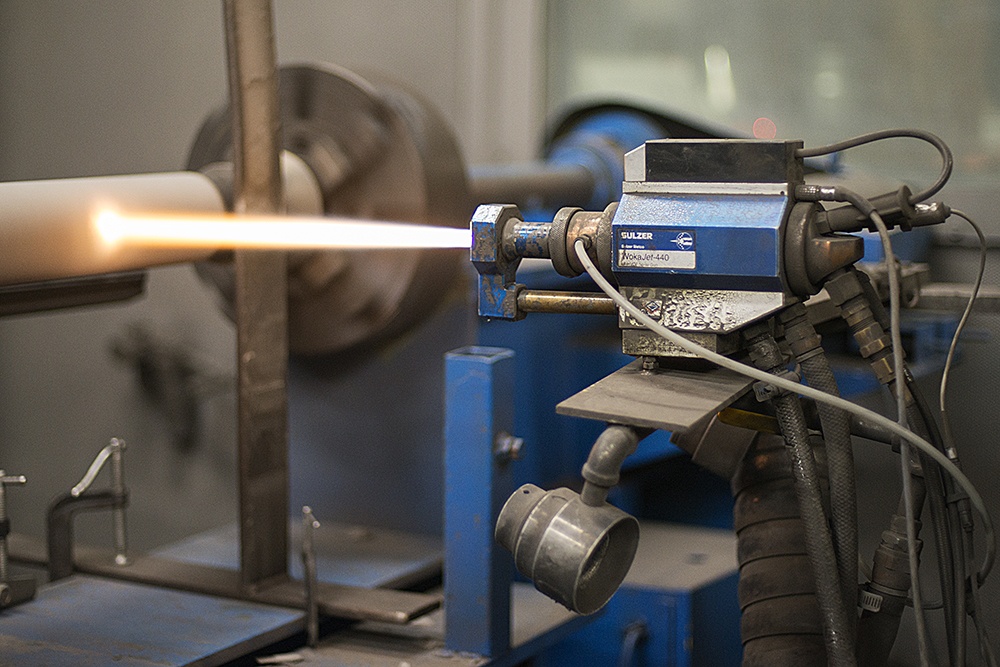 Thermal Spray Coating Options
HVOF | High-Velocity Oxygen Fuel
HVAF | High-Velocity Air Fuel
Plasma Spray
Metalizing | Twin Arc Spray and Combustion
Spray and Fuse
Technical Information
Special Refurbishing Processes
Many times, it is economically more feasible to restore a very high-cost component. Typically these are components of high precision and are in abrasive and/or corrosive environments. Typical parts would be worn tools and tooling, rotating and reciprocating parts, housing and impellers, fans turbine components, mandrels, pump shaft, various drive shafts, and bearing journals on a wide assortment of parts. These parts can be refurbished by using any one of the Thermal Spray Processes employed by Superior. The ultimate application process will be determined by the alloy required and the environment in which the refurbished part will run.
Grinding and Honing
Many of the metallic thermally applied coating processes that we provide require pre-grinding of the surfaces. This can be done by an undercut to allow for the build-up of the coatings to final dimensions, or it can be to remove old coatings for re-coating in a refurbishing process. When the coatings are applied, a finish grind is also required to bring the part into final dimensional tolerances. Some parts even require a very fine micro-inch finish to meet the performance criteria of a given part.
Superior Shot Peening & Coating has a full complement of grinders and honing units in-house to complete all of these requirements in an environmentally controlled building to assure accuracy.
Why choose superior shot peening for your next job?
QUALITY
Superior quality control methods, QC tests, and 10x magnification inspections.
RELIABILITY
Test equipment approved by NIST to ensure accuracy
TRUST
Certificate of compliance issued with each order.